Auditions open!
October 2015:
Rehearsals for our 2015-2016 season are starting up, and we have openings for a few new singers. If you've always wanted to try out for Golosa but have been too timid… Well, it's not our place to straighten out your self-esteem problems. But we
can
provide a hospitable environment in which to run away from them! If you like our music, feel you might be able to sing the way we do, and could be at rehearsals in Hyde Park, Chicago on Wednesday evenings from 7pm-9pm, please consider auditioning. Use our
contact page
to schedule a time.
We are also taking orders for our new CD, "A Bird Is Known by Its Flight". Visit our
online store
to purchase a copy for yourself, then enjoy listening to Golosa at home or on the road, while watching this space for concert notices! (Or, if you have better things to do than watch this space, you could
contact us
and ask to be added to our email list.)
До свидания!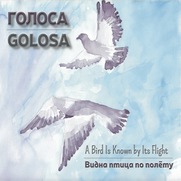 The ensemble is supervised by Artistic Directors Noel Taylor and Tamara Ghattas. Manager Lauren Makholm handles booking requests, and Kate Mooney is our University of Chicago liaison.
Please visit the
events page
for information on our future engagements. Even better, sign up on our
mailing list
so that you will be informed of all the choir's performances and other activities.
olosá is Chicago's one and only Russian folk choir, founded in 1997 at the University of Chicago. We sing sacred and secular Russian folk songs in a mixed-voice a cappella ensemble, and we perform all year long throughout the Chicago area. Auditions are generally held once a year, in the fall.