Auditions open!
October 2015:
Rehearsals for our 2015-2016 season are starting up, and we have openings for a few new singers. If you've always wanted to try out for Golosa but have been too timid… Well, it's not our place to straighten out your self-esteem problems. But we
can
provide a hospitable environment in which to run away from them! If you like our music, feel you might be able to sing the way we do, and could be at rehearsals in Hyde Park, Chicago on Wednesday evenings from 7pm-9pm, please consider auditioning. Use our
contact page
to schedule a time.
We are also taking orders for our new CD, "A Bird Is Known by Its Flight". Visit our
online store
to purchase a copy for yourself, then enjoy listening to Golosa at home or on the road, while watching this space for concert notices! (Or, if you have better things to do than watch this space, you could
contact us
and ask to be added to our email list.)
До свидания!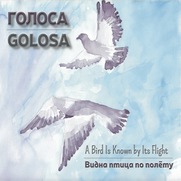 CD Release Concert!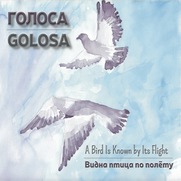 Saturday, May 30, 7:30 p.m.
Packer Schopf Art Gallery
942 W. Lake St., Chicago

We're thrilled to return to our friends at the Packer Schopf Gallery to celebrate the release of our new album, "A Bird Is Known by Its Flight". Join us to hear many of the songs featured in this collection, and stay afterward to chat and enjoy light refreshments while you pick up your copy!

Open to the public; free-will donations requested.
Golosa with Chicago Men's A Cappella Chorus
Friday, March 13th, 7:30pm
Rockefeller Chapel, University of Chicago
(On the University of Chicago campus in Hyde Park — see map.)
University of Chicago Folk Festival (Workshop)
Saturday, February 14th, 4pm–5pm
Ida Noyes Hall, University of Chicago
(Ida Noyes Hall is located at 1212 E. 59th St. in Hyde Park. Click here to view a map of the area around Ida Noyes Hall.)